August 22, 2009. Saturday morning at 10:am, Craig Gabrian of Young Dancers in Repertory put on a spectacular performance at the Society of Old Brooklynites rededication of the Fort Greene Monument in Brooklyn, New York. His performance was so moving as he depicted in dance the anguish, turmoil, and torment of the prisoners that so bravely gave their lives so that we Americans can be forever free. His grasps, thrusts, and contorting movements gave us a perfect visual sense of what those prisoners went through in the bowels of British prisons ships as they perished in the most horrible conditions to dramatic music by Enya. In my mind Craig conjured up a surreal image of testimony all the while still reflecting on the feeling of hope for the future as intermittently his hands would reach for the top of the monument. His dance partner Anne Versluis stepped slowly towards and then around the monument with somber motions and arms stretched high with hope and wide with understanding as if to recognize the sacrifices and somehow give comfort to the fallen patriots. She never came in contact with Craig as we will never come in contact with these people honored today. Craig's triumphant artistic statement revealed symbolic levels of suffering that could only truly be felt by the martyrs themselves. Anne throughout her part of the performance looked upon him as to express pity but more importantly in a much greater sense, she portrayed the well deserved eternal gratitude for the strength of will these people have shown us, for the foresight and fortitude to withstand this treatment perpetrated on them with the cruelest of intentions. The cruel intentions designed to break our backs and thwart any foothold to the ideal that all men are created equal.
When I asked Craig to do a performance for this rededication I was looking for something along the lines of patriotic marching and flag waving and I expressed this to him. He told me he would come up with something appropriate, well he hit the nail right on the head, being the brilliant dancer and choreographer he is there's no question of his genius.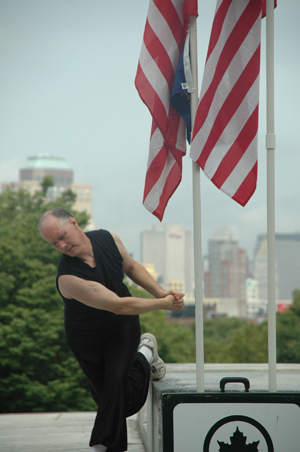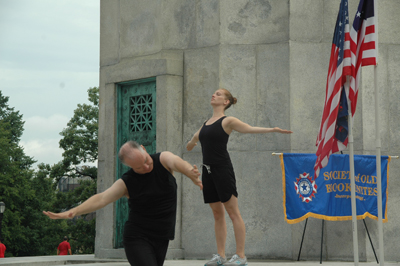 Submarine Docked in Brooklyn
The other day was out with my camera when another thunderstorm rolled in and that was driving past the Brooklyn Bridge. I tried to find a place to park while I spotted very intense freeborn electrical arc striking the Manhattan tower. I went down a dead end street trying to find a vantage point to photograph this electrical storm. I did not want to go far from my SUV because I was afraid that the rain would start and if I was away from the safety of my vehicle my camera might be ruined. As I predicted the rain came down in a deluge just as I found the best waterfront spot to photograph the bridge, but the bridge was obscured by that very rain. I snapped a few shots but they were disappointing. I dashed over and jumped into my car and turned around in my seat to look for a way to back out of this dark and desolate street as the driving rain and darkness made it very hard to see. A flash of lightning illuminated what I did not expect to see on any Brooklyn waterfront and the fact that I was so close to it startled me. I had to wait for the next lightning flash to actually confirm that I saw what I saw. You can see in the photographs the driving rain and how close I was to this spectacle. I tried to use existing light to capture my image but I found that tripping the shutter at the exact moment of a lightning strike gave me a crisp image. I am certainly a man about Brooklyn but I have no idea that the submarine was docked in Brooklyn.